Alameda & Oakland Marinas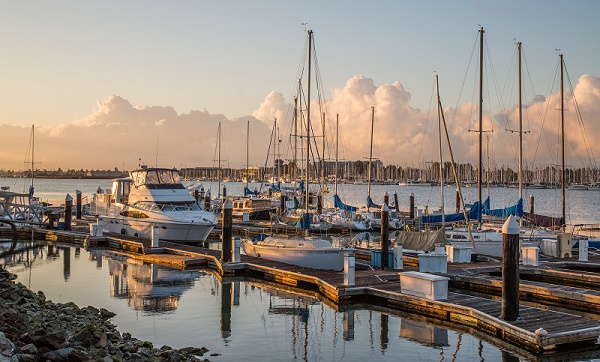 ALAMEDA & OAKLAND MARINAS WE SERVICE
Seashine is always here to help with all your boat cleaning and yacht maintenance needs. We provide top notch East Bay Area yacht management, sailboat detailing, boat cleaning and detailing, yacht maintenance and yacht management services.
Alameda
Marina Village (Alameda): Marina Village is a 767-berth marina on the Oakland estuary, across from Jack London Square. Located at 1030 Marina Village Parkway in Alameda this great marina has ample free parking, shower and laundry facilities, adjacent shops and restaurants, and is located in the beautiful Marina Village development, in a safe, secure environment. Slip sizes range between 24' and 72' and 32' slips start at $315 month. This marina is in one of Alameda's best locations and is a must see for any berthing changes in your future. For more information on amenities, pricing and availability call them 510-521-0905 or visit their website at www.marinavillageharbor.com. Seashine provides Alameda Yacht Management, Boat Cleaning, and Interior and Exterior Maintenance services.
Alameda Marina: Alameda Marina is located along the historic waterfront of the Alameda/Oakland Estuary directly across from Coast Guard Island. Built on a former shipyard, our 42-acre complex is quite diverse; offering 530 wet berths, dry boat storage to accommodate over 700 boats and the only marina on the Bay with a full-service boatyard, chandlery and sail lofts. Berthing prices range from $6.50-9.00 per boat foot. For more information call 510-521-1133, email info@alamedamarina.net or visit their website at www.alamedamarina.net.
Alameda Yacht Club: The club's goals are to promote recreational activities that will interest many of its members. Our Clubhouse offers the members and guests a comfortable and friendly meeting place for a variety of activities. There is a member operated full bar and a functional commercial galley and many BBQs and picnic tables on the deck overlooking the marina. The clubhouse is open nearly every day of the year. Check out their website here: www.alamedayachtclub.org.
Bellena Bay Yacht Club: Ballena Bay Yacht Club is an all-volunteer, non-profit organization with approximately 180 members. The club is located in picturesque Ballena Isle Marina on the western side of Alameda, California. It features a nice bar and restaurant area with great dinner menus every Saturday evening. Check out their website here: bbyc.org.
Fortman Marina: Fortman Marina is a 497 berth Marina located at 1535 Buena Vista Avenue in Alameda. The harbor is situated along the Oakland estuary, opposite of Coast Guard Island in Alameda, which is considered one of the prime marina locations in the Bay Area. Berth sizes range from 15′ to 60′ and rates are very reasonable with 30' slips starting at $229/mo. In addition, each berth has a lockable dock box, electrical power, phone service, and fresh water. Access to the individual docks is through several locked gates with key entrance systems and ample parking is provided. For more information call them at 510 522 9080, send them email at fortmanmarina@comcast.net or visit their website at www.fortman.com.
Ballena Isle Marina: Newer marina on the west side of Alameda and the only marina on the westside of the estuary. Facilities include fuel dock, pumpout, tennis courts, and the Island Lighthouse restaurant.
Ballena Bay Cafe, Ballena Bay Yacht Club, Club Nautique, Ballena Bay Yacht Brokerage, Cruising Yacht Inc. (brokerage) and nearby restaurants and amenities. For more information on berth pricing and availability click here or call them at 510 523 5528.
Grand Marina: Grand Marina is one of Alameda's premier marinas with updated 21st technology including cable television, phone connections, free wireless Internet, and 24/7 parking with Security on-site. Their slip fees are very reasonable, and the members have great things to say about their stays. They offer 400 slips ranging from 30-53', end ties up to 110', and side ties available for up to 40'. For more information call them at 510-865-1200 or visit their website at grandmarina.com.
Encinal Yacht Club: The Encinal Yacht Club is located on the Alameda side of the Oakland Estuary in protected waters. Their club facilities include a friendly stocked bar, lounge and dining room on the main floor, the Regatta Room for private parties and meetings on the lower floor, a large dock for members and guests, a small boat yard, swimming pool and sauna. Check out their website here: www.encinal.org.
Oakland Yacht Club: The Oakland Yacht Club is proud to own its own clubhouse and marina. Featuring a large dining and bar area overlooking the OYC marina and Oakland Estuary, Library and meeting room, Updated showers and restrooms with built-in hairdryers, 198 slips ranging from 28′ – 50′, plus three end-tie, guest dock facilities ample free parking, and conveniently located near shops and chandleries. Check out their website here: oaklandyachtclub.net.
Oakland
Jack London Square Marina (Oakland yacht maintenance and boat cleaning services): Located in a vibrant and downtown location of the East Bay, Jack London Square Marina is within walking distance to dozens of restaurants including Scotts and Kincaids, bars like the famous Last Chance Saloon and incredible nightlife in this revived area of Oakland. Jack London Square Marina has 162 slips available, ranging in size and price. For more information visit them at 88 Jack London Square Oakland, CA 94627 or call them directly at 510-834-4591.
5th Ave Marina (Oakland boat cleaning and Yacht Maintenance services): Located just up the road from the Jack London Square Marina, the 5th Avenue Marina is located just off 880 freeway in a small business and community. The marina has a 107 slips available for lease, and will vary in size and price due to availability. Close to the famous Quinn's Lighthouse Restaurant and Bar and their weekly pirate night. For more information visit them 1 Fifth Ave, Oakland 94607 or call them at 510-834-9815.
Embarcadero Cove Marina (Oakland boat cleaning and Yacht Management services): Located on the embarcadero in Oakland, Embarcadero Cove Marina is an affordable option for a slip in the Oakland area. Featuring 109 slips and can hold larger boats, and the pricing ranges due to availability. It is located on the calm Oakland Channel, and close to many amenities like food and shopping. For more information visit them at 31 Embarcadero Cove Oakland CA 94606 or call them directly at 510-532-6683.
We offer a wide range of professional services tailored to your individual boating needs.